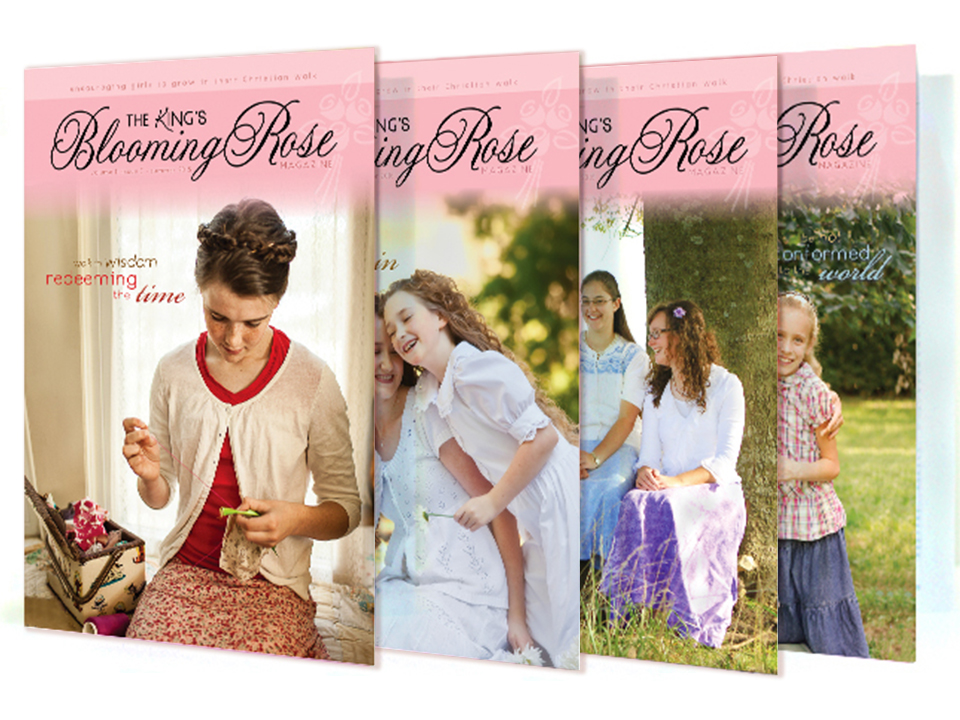 The King's Blooming Rose subscription
4 issues/year, mailed

The King's Blooming Rose gift subscription
One Year GIFT Subscription - you will receive a free issue!
(Include recipient's address in instructions field in the shopping cart)
4 issues/yearIf you would like to announce your gift is coming,
download and print the KBR gift card

The King's Blooming Rose SAMPLE

The King's Blooming Rose SPONSoR SUBSCRIPTION (USA)
We occasionally receive requests from families who are unable to purchase a KBR subscription, yet would appreciate the spiritual encouragement. When you sponsor a subscription, we are able to send KBR complimentary of your donation.



Experience the joy of fellowship with young ladies around the globe who are on a journey of seeking the Lord! We would love to have you join us!
information about your subscription
KBR is published in January // April // July // October.
Your subscription will include four issues and will begin with the next consecutive issue. If you would like it to begin with the current issue, please note that in the "ordering instructions" in the shopping cart.
For every gift subscription that you give away, a FREE issue will be added to your own subscription. If you would like to announce your gift is coming, download and print the KBR gift card. Thank you for sharing KBR with your friends!
Free KBR brochures are available upon request, so if you know of others who might be interested in KBR, ask us to send along some brochures when you are checking out.
You can subscribe to KBR online, or mail your order using KBR's printable order form. All checks and money orders must be in US funds and made payable to Sarah Bryant. We CANNOT accept Canadian checks.
KBR Magazine is a ministry, and all subscription rates go toward printing and shipping costs. If you are not able to donate, please contact us and we will consider filling your request, as the Lord provides finances. Consider sponsoring a subscription for someone who is unable to donate (below left)!
While you're waiting for your first issue of KBR to arrive, order a few back issues (available while supplies last)or browse sample articles!