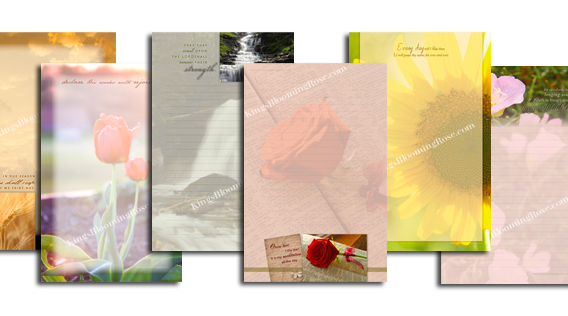 Great Gift!

SCripture Stationery Set of 6
Each notepad is approximately 5.5x8.5" and has a Scripture Verse (KJV). Some designs have light writing lines. Envelopes are not included.
$13.00
Do you like to letters of encouragement? These beautiful stationery sets will be a wonderful addition to your stationery stash! Six different notepad colors, each with a Scripture verse and scenic or floral photo design.
Available in sets of all six designs (left) or sets of 2 designs each (below).
SCripture Stationery Set One

One 25-sheet Notepad of Each Design: He Filleth The Longing Soul and I will Praise Thy Name

$5.00


SCripture Stationery Set two

One 25-sheet Notepad of Each Design: I Love Thy Law and They That Wait Upon the Lord

$5.00

SCripture Stationery Set three

One 25-sheet Notepad of Each Design: Declare His Works and Ye Shall Reap

$5.00