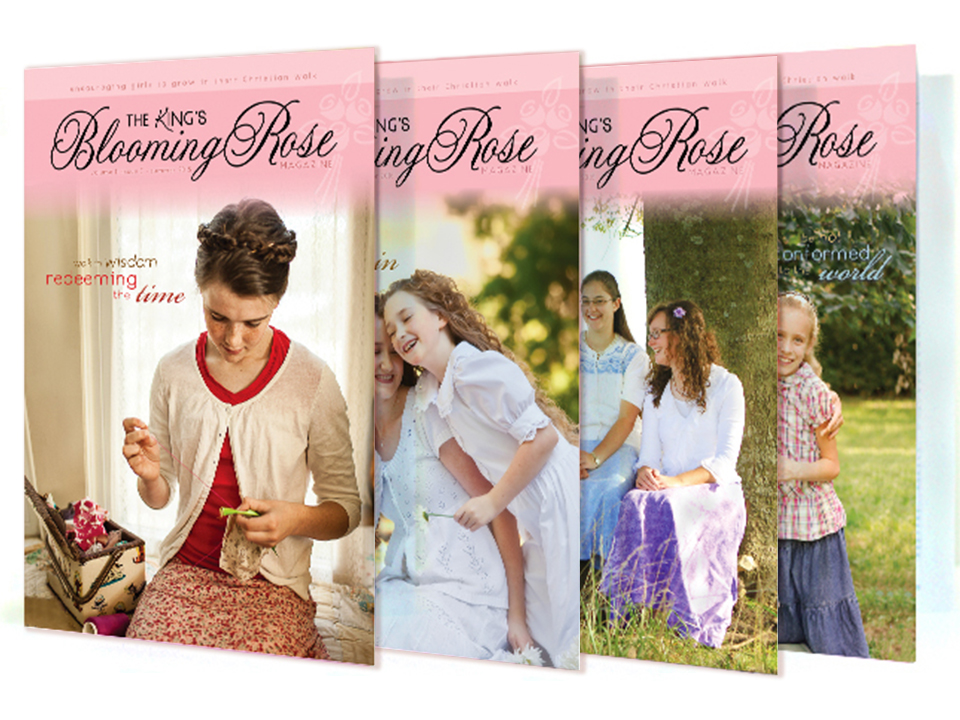 The King's Blooming Rose subscription
One year Subscription Beginning with Forthcoming Issue
4 issues/year, mailed$10.00/year in USA (View Foreign Rates Here)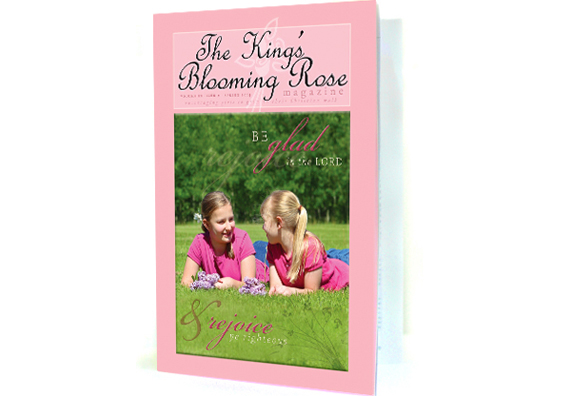 The King's Blooming Rose Volume 10#2
$3.00

The King's Blooming Rose Volume 10#1 Bundle of 10
$18.00 (save $12.00)

The King's Blooming Rose gift subscription
One Year GIFT Subscription Beginning with Forthcoming Issue
(include recipient's address in instructions field in the shopping cart)
$10.00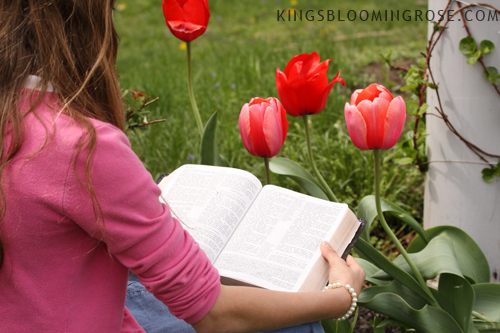 THEMATIC ARTICLES
Cheerfulness: A State of the Heart » by Brooklyn B.
Each day we are given a choice to decide if we will live for ourselves, or embrace the calling of Christ - to show forth His joy.
Choosing a Cheerful Attitude » Julia and Hannah
Joy from the Lord gives us "strength for today and bright hope for tomorrow."
The Beauty of Joy » by Miriam E.
Making ourselves outwardly pretty can be fairly eas, but cheerfulness is like a jewel—it makes us shine.
Choosing a Good Morning » by Andrea N.
Here are some practical thingswe can do to help start a day off with a cheerful attitude.
Vessels of Joy » Interview with Mirren and Taryn M.
These two sisters share how we can be cheerful, even with the ups and downs of daily life.
In Everything Give Thanks » by Maryanna B.
How do we get to that place of maintaining a cheerful spirit throughout each day, especially when we are inconvenienced, misunderstood, not appreciated, or given more to do than we think we can get done?
To Be or Not To Be » by Grace P.
What is the difference between acting cheerful and being cheerful?
A Spirit of Joy Amidst Heaviness » by Michelle M.
Is it possible to maintain a foundational rest and joy in Christ, in heaviness?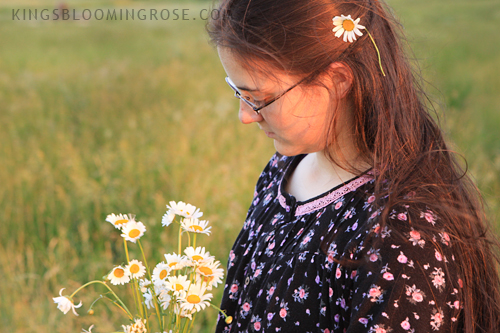 SPECIAL · ARTICLES
Journeying Heavenward » with editor Sarah Lee
Friendships that Sharpen » by Elisha Ann Wahlquist
Preserving a Legacy of Love - Filling a Hopechest
The Need to Refocus » by Samantha P.
Surrender: A Life of Glorious Freedom » by Monica W.
Visiting with Old Friends » Aurelie and Virginie C.


ALSO · IN · THIS · ISSUE
ECO » Comments, pictures, and introductions from Readers
Cook's Cuisine » Gluten-Free Recipes (Extra Here)
Subscriber's Script » Meet Hope and her family
Herbal Remedies » Skin Problems
The B's Buzz » Editor's family news
The Bulletin Board » Ads and pen-pal requests
Pray Today » Prayer requests from readers
EXTRA · ONLINE · GOODIES

We invite you to write for the next issue of KBR! Young ladies and older woman alike who desire to encourage others through writing are welcome to share for the next issue. The theme for the summer 2014 issue of KBR will be:
TRUE · FEMININE · BEAUTY
What makes a young woman truly beautiful in God's eyes? God's Word places emphasis on inward beauty—godly virtue. How do we obtain this lasting beauty (Psalm 45:13)? How do we maintain a proper balance of primarily focusing on the inward beauty of the heart, while at the same time, seeking to represent Christ through our outward appearance, as temples of the Holy Spirit (I Cor. 6:19)? What message should our appearance and clothing convey, as daughters of the King?
SUBMISSION DEADLINE · MAY 10, 2014
SEND SUBMISSIONS TO · submissions@kingsbloomingrose.com
Please read our submission guidelines when writing for KBR. Non-thematic submissions are also welcome, such as articles, letters, poems, pictures, book reviews, prayer requests, and submissions for other regular columns.
Items received may be published on the website or held for future issues if there is not room in the next printed issue (specify if you don't want your submission on our website).