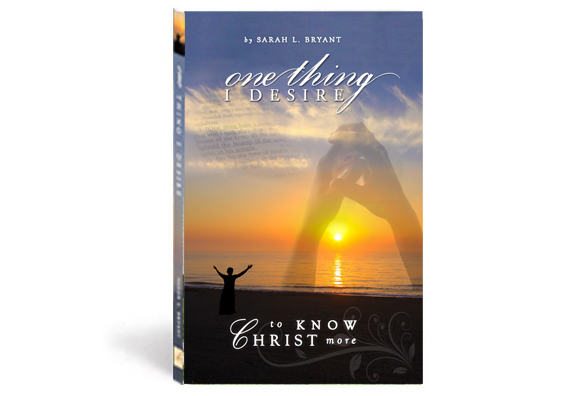 152 pages

One Thing I Desire
by Sarah L. Bryant
$11.00 $10.00
If you would like your copy autographed, please make note of that in the comments field while checking out.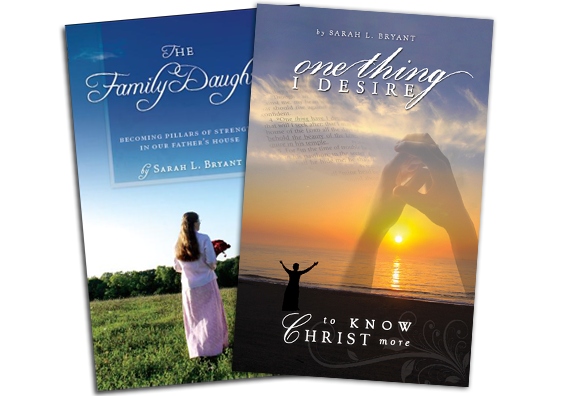 What is your deepest desire?
Has your life been engulfed by one consuming passion — that you would more deeply know your Savior Jesus Christ and the fullness of the Gospel?
We are given only one life — one blink of an eye in light of a shoreless eternity. What is our purpose in this earthly life? The greatest comman dis to love the Lord our God with all of our heart, yet how do we love a God we do not know? We know how to fit into the "right Christian circles" and say all the "right things" — but do we personally know the Author of our salvation?
chapters · include
Looking unto Jesus 
A Captivating Quest 
On Bent Knees
All These Vain Things
A Living Sacrifice
Facedown
Includes sections "Personal Evaluations" and "Food for Spiritual Revival"
Sarah's desire is to challenge young ladies to pour out their lives in the Scriptures, seeking the face of their Savior — in the days of their youth. This is vital, so that they will be equipped to teach the next generation about the faithfulness of God.
One Thing I Desire is penned to encourage you in your quest to seek and know your Redeemer through His Word, that your heart would be enraptured by Christ's great work accomplished in the Gospel.
The grandeur of this One Thing will spur you to love Him more with all of your heart, soul, and mind — and to worship Him throughout all of eternity.
About the author
Sarah L. Bryant is grateful for the saving mercy of Jesus Christ and her desire is to love Him more each day. The oldest daughter of Tom & Dana Bryant, Sarah is also author of The Family Daughter and editor of "The King's Blooming Rose."
Amy Vest "In this book, you will find a treasure of riches for your soul. Its pages are filled with Jesus, the Word, Christ's infinite greatness, our desperate neediness, beautiful illustrations, and practical application - all addressing the very purpose we are on this earth - to know Christ and to glorify Him as a result. As you read with an open heart, you will discover, by the grace of God, that knowing Jesus Christ, the One who 'satisfies that longing soul' - is the one thing you desire."
Mrs. June Fuentes "This book has been a blessing to me in so many ways as I turned and found page after page of timeless and substantial truths that reminded me of the abounding grace and mercy that in the person, character, and overflowing love of Christ. I am not one who enjoys much fluff in my reading and was delighted to find that this book proved to be powerful as the Word of God saturated its chapters, focusing the reader's heart to look inward in humble self examination and ultimately pointing upward in encouraging exhortation to guide us towards our merciful and loving Savior. Sarah has a deep desire to know the Lord and her hunger for Him shines through as she reaches our hearts through its pages."
Mrs. Donna Morgan "From a freshly kindled relationship with Jesus Christ to a passion to know Him more fully, Sarah guides the reader with heartfelt sincerity through the Christian disciplines of one who seeks a close and growing relationship with her Lord. While sharing insights on prayer, Bible study and sacrificial obedience, she paints a vivid picture of the life of a true seeker."
Tiffany Schlichter "As believers, if we would just take a moment to reflect on the anguish of the Cross — on the immense, undeserved gift of eternal life that we have received — how much more vibrancy our Christian walk would contain! Your book does just that and I am confident that it will be an encouragement and awakening to many Christians. Thank you for taking the time to pass along these potent truths the Lord has graciously given to you as you journeys with Him."
Israel & Brook Wayne "In the tradition of classic deeper-life books from yesteryear, Sarah Bryant presents us with a new book that will draw the reader into a deeper walk with Christ. One Thing I Desire is a call to a more intimate relationship with the Savior."
Sarah Hulslander "I have been greatly blessed by your volume One Thing I Desire. Your love for the Lord and your diligent efforts in studying God's Word are very evident throughout and have been a wonderful inspiration to me."