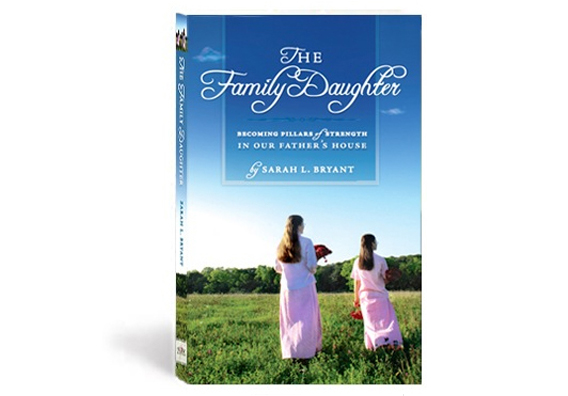 208 pages

The Family Daughter
by Sarah L. Bryant
If you would like your copy autographed, please make note of that in the comments field while checking out.
Excerpt from Chapter Entitled "An Abundant Season"
Every girl dreams of caring for her own baby someday. At a young age, she loves cuddling her doll and dreaming of names for her little "baby." I remember caring for a room full of dolls when I was younger; in fact, I still have these dolls which I used to play with. Yet as I have grown older, they have remained stuffed in my closet for longer lengths of time as my dreams have taken greater depth. The Lord has given me a vision to be a wife, mother, and godly homemaker, as revered in Proverbs 31 and Titus 2. Upon the day of marriage, I will not suddenly be equipped for the responsibility a homemaker carries; I must gird myself in preparation today. More of my time is now spent developing skills that will be useful as a future homemaker.
Let us look at the parable Jesus gives in Matthew chapter 25, about the ten virgins who awaited their bridegroom. Five virgins foolishly did not prepare for their coming groom. The other five kept their lamps trimmed and had extra oil-and it was these who were ready when their bridegroom appeared in the night. The five foolish maids were left to scamper around to find oil for their dimming lamps, so that they missed their long-awaited bridegroom. In fact, when they finally arrived late at the wedding, they were utterly cast away-their bridegroom did not even recognize them: "I say unto you, I know you not" (Matthew 25:11).
In a similar way, we are maidens awaiting both our heavenly and earthly groom, and we can find truth and admonition from this parable. We need to prepare for the tasks that may lay ahead of us, and not fritter away this season, so that we will be ready for whatever the Lord calls us to do. Though we may greatly long for the time when we can marry, we need to wisely use this opportunity to prepare for the next. We must remain content where the Lord currently has us, preparing instead of pining. We can find rest and peace in being content, trusting that God has a perfect plan for our futures, as Jeremiah 29:11 promises, "I know the thoughts that I think toward you, saith the LORD, thoughts of peace."
At times, it has been a struggle in my own life to keep my heart content. I went through a particular time when I incessantly worried, "What if I never get married?" I became so overwhelmed that I could not cope with today's calling to prepare myself to be keeper at home. The Lord opened my eyes to the truth: I was not trusting His timing for my life, and if I am not content in this season of singlehood, I will definitely not be content after marriage. One friend put it this way,
"Christ is the only one who can fulfill my longings and desires. No husband can. It is hard to explain the glorious sense of nearness I have with my heavenly Bridegroom, Christ. We should indeed delight to be with Him in the same way a maiden delights in her bridegroom."
When Christ's will is our highest ambition, we will find fulfillment. Christ should be first in our life, our best friend, closest confident, and deepest desire. Instead of impatiently waiting for a husband, we will find great value in investing in this precious relationship with our Savior.
When I become fearful or discontent, I must pray, "Lord, I give up my dreams of my future. I know you will use these years to prepare and mold me into a vessel for Your use." Surrendering my dreams has given me a peace "that passeth all understanding" (Philippians 4:7). It has been freeing for me to simply trust the Lord for my future, and since I have committed this specific area to Him, I have also been able to more whole-heartedly follow my dad where he leads. As long as I am serving and following the Lord by doing this, He will bless my efforts!
I have found one of the best remedies for maintaining an attitude of contentment is to simply focus on the tasks God has given me to do, thus, avoiding thoughts that cause me to struggle with this desire for something I do not yet have. We need to let these desires rest, and not stir them up by thinking about marriage overmuch. "I charge you, O ye daughters of Jerusalem, by the roes, and by the hinds of the field, that ye stir not up, nor awake my love, till he please" (Song of Solomon 2:7). I want to encourage you, dear sister, to look to the Lord for the things He has for you today. We can and should look forward to the day when we may undertake the blessed role of homemaker, but we must remain content where He has us today and the tasks He has for us during this season.
God knows every detail of our futures; His plan is much superior to ours. No matter what He may have for our life, we must trust that our Lord knows best, even if it means sacrificing the dearest desires of our heart. "Commit thy works unto the LORD, and thy thoughts shall be established" (Proverbs 16:3). We will find the hardest times and deepest sacrifices actually add the most vibrant colors to the picture of life. If we only trust Him, our Father will fulfill our dreams much more extraordinarily than we can imagine-because He has an infinitely greater perspective.
The time we have before marriage is a wonderful opportunity we have been given to serve the Lord, bless our family, and prepare ourselves to lead a mission-driven life for His glory. We must embrace it! Ephesians 5:15 warns all who will hear, "See then that ye walk circumspectly, not as fools, but as wise." This season contains incredible potential, since we have the energy to invest in projects that as a wife and mother we may not have the opportunity nor time, as I Corinthians 7:34 points out, "The unmarried woman careth for the things of the Lord, that she may be holy both in body and in spirit: but she that is married careth for the things of the world, how she may please her husband."
Will we prepare like the five wise virgins? When our Bridegroom calls, will He find a prepared maid? May we use this opportunity wisely!

Mrs. Jennie Chancey
Wife and Mother, Founder of Ladies Against Feminism, Co-Author of Passionate Housewives Desperate For God
"In this utterly transparent book, Sarah Bryant speaks from her heart about the daily walk of the daughter at home. Sharing her own struggles and triumphs, Sarah demonstrates that it is grace that animates our calling as godly women and that God is faithful to equip us as we joyfully submit to His sanctifying power. I was not only refreshed by Sarah's honest words; I was convicted anew of areas I need to work on as a wife and mother! If you are a daughter at home, this book will encourage you to pursue the Lord's work with new vision. Including testimonies from many other young women,
The Family Daughter
doesn't paint an unrealistic picture of perfection but deals with the reality of our sin nature in the light of Christ's promises to His people. I would also highly recommend this book to mothers as a glimpse into the heart of a daughter. I found Sarah's insights helpful as I ponder how to wisely bring up my own daughters. Thank you, Sarah, for this beautiful labor of love for your sisters in Christ!"
Dr. D. Randall Talbot Executive-Vice President/Academic Dean of Whitefield College
"In this book, Sarah answers this question: How can daughters become their family's pillar according to Psalm 144:12: 'Let our sons in their youth be as grown-up plants, and our daughters as corner pillars fashioned as for a palace'? In answering this question Sarah shares her own struggles and triumphs. She encourages young ladies to become crucial cornerstones in their father's home as they prepare to become godly women. It is a book that I can highly recommend for every young Christian lady and gentleman."
Mrs. Jasmine Mansfield
Wife and Mother, Founder of Far Above Rubies
"The Family Daughter
is one of the best books I have ever had the privilege of reading. I can honestly say this book encouraged me to pursue God's work as mother and wife with renewed vision. I was convicted, elated, motivated, encouraged, and humbled the entire read. I guess the reason for this is because Sarah is so transparent with her own struggles and victories as a young woman that I couldn't help but understand her love for God and family. She did not share unrealistic goals of perfection nor was there any judgement sensed in relation to a young woman's pursuit of godly womanhood. As daughters at home, this book will encourage you to pursue God's work with new vision."
Veronica
Homemaking Wife and Mother, Founder of A Quiet Heart
"In addition to the practical wisdom offered, this book is extremely biblical. Although I am no longer among this book's 'target audience,' there were many times that I found myself convicted of sin, or discovered areas that needed work in my own life. As a wife and mother, I also found great insight and instruction on how I can better train and encourage my own daughter to embrace a biblical view of womanhood, even now. This book is an encouraging and needed message today – for single young women, and for the mothers who are seeking to raise them."
Mrs. Kari Lewis
Wife and Mother, Co-Founder of Home School Enrichment Magazine
"The Family Daughter
is an excellent book for Christian young ladies. Through practical Scriptural applications and personal testimonies from single young women, readers will realize that marriage is not a goal to be attained before they can find and do God's will-their lives can be full of joy, purpose, potential and fulfillment right now!"
Natalie Wickham
Daughter at Home, Author of Pajama School
"From the velvety texture of the cover to the artistic use of complementary fonts to the attractive layout of each chapter, this book goes above and beyond in its aesthetic appeal. The style of writing embodies a spirit of exhortation, and Sarah's desire is obviously to encourage younger girls to have a heart for their families."
Tiffany Schlichter
Daughter at Home, Author of Noble Girlhood and All Glorious Within
"The Family Daughter
has been such an encouragement to me already! I was reminded several times of the importance of humbly serving, living wholeheartedly for Jesus instead of the world. I was refreshed by the positive viewpoint you maintained and the many godly stories and testimonies you shared...What is great is that The Family Daughter won't just challenge daughters' relationships with family - but it will also challenge their relationship with their Savior, which is truly the foundation of everything else in life. How wonderful to have both in one book!"
Mrs. June Fuentes
Wife and Mother, Founder of A Wise Woman Builds Her Home
"One thing that I so enjoyed about the book was that [Sarah] shares real life struggles with biblical solutions, so that everyone girl can relate. Not only that, but there are also other daughters that share little bits of nuggets of wisdom, I think this is vitally important so that our daughters can learn from multiple daughters who have much to offer in experience. There is valuable teaching on godly character - from contentment, encouraging their brothers and sisters, gentleness, how to take correction...truly a treasure trove of wisdom!"
Renee DeGroot
Daughter at Home, Author of Health for Generations
"Your book really encouraged me to seek the Lord and spend time with the Lord, and I really appreciated and learned from your emphasis on this part of our Christian walk as young women. I've been learning in the last year that through trials that the Lord and His people give much peace to our hearts... It was good to be reminded from numerous places in your book, that the answer is going to God and seeking His will."
Grace Pennington
Daughter at Home, Producer of Journey of Honor Documentary
"Dear sister, this is just the encouragement I have been praying for, and have so desperately needed these past few months of spiritual drought! I can see so clearly the humility and willingness to be led by the Holy Spirit in your writing, and that is what makes it valuable: the fact that Jesus Christ shines through every word, causing people to look beyond you and the other girls who contributed. He is what will make this work effective, He is the one who will touch hearts and inspire girls. Well done, and thank you so much!"